Nicky Verstappen: Suspect named in Dutch boy's 1998 death

Europe Europe Nicky Verstappen: Suspect named in Dutch boy's 1998 death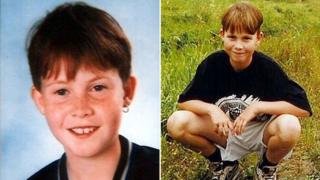 Police in the Netherlands have announced a breakthrough in the 20-year-old disappearance and death of schoolboy Nicky Verstappen.
Nicky, then aged 11, was at a summer camp in August 1998 when he vanished from his tent. His body was discovered in the forest the following day.
Police say they now have a suspect named Jos Brech, who lived nearby - and who disappeared earlier this year.
It follows the largest DNA testing project in the country's history.
One of the only pieces of evidence in the case was foreign DNA discovered on Nicky's clothing.
More than 14,000 men voluntarily gave DNA samples to the investigation - none of whom were suspects.
But by comparing the samples, it could be determined if a relative of the donor was a match, narrowing the search.
At a press conference on Wednesday, police announced that the suspect was 55-year-old Joseph Theresia Johannes Brech.
Mr Brech lived in the area where Nicky Verstappen died in 1998, but did not participate in the call for voluntary DNA samples, Dutch broadcaster NOS reports.
He was recorded as having passed the scene of the crime back in 1998, NOS said, walking by a few days later shortly after midnight. He was stopped by police and later interviewed, but had been thought to be an innocent passerby.
Living in the shadow of an unsolved murder
Police said he left the Netherlands late last year. In February, he told his family he was in France on a hiking trip, but has since vanished.
After he was reported missing in April, police examining his home discovered he is a 100% match for the DNA found on Nicky's body.
Dutch police believe he is now in hiding. He is said to be an experienced woodsman who can survive in remote areas for long periods of time.
A not-so-cold case
Anna Holligan, BBC News in The Hague
This is a cold case that never really disappeared from the Dutch consciousness.
A schoolboy with a smattering of freckles across his nose, a cheeky grin and gold hooped earring in his left ear.
Like so many young boys approaching teenage-hood, he was packed off to enjoy a summer camp. The only difference: Nicky Verstappen never came home.
His name has since become a byword for the caution now applied to a pursuit so popular with the liberal Dutch.
The twists of this case have been felt in the heart of a nation that has closely followed the Verstappen family's quest to bring their son's killer to justice.
"After searching for 20 years we have a name and a face," Nicky's mother, Berthie Verstappen, said.
She paid tribute to journalist Peter De Vries, who had investigated her son's death and acted as the family's spokesman after the press conference.
"Peter mentioned all the people who have worked on the case over all these years. But he forgot the person who was most important to us... that's yourself. If it hadn't been for you, the investigation wouldn't have moved forward for 19 years," she said.
"All these years you were always there for us, day or night," she added.
Top Stories
Trump ex-lawyer 'happy' to aid Russia probe
Michael Cohen admitted violating campaign finance laws, but Mr Trump says he has "made up stories".
22 August 2018
Will Trump remain bulletproof?
22 August 2018
The bridge of desperation
21 August 2018
Features
The bridge of desperation
How I caught the 'black widow' who killed my brother
Will Trump remain bulletproof?
'I'm a woman with a camera - it surprises people'
'Our voices will drown amongst the giants'
Cricket is tackling sexism in India's schools
Is India ready to send someone to space?
Video
Talking about sex to my Punjabi mum
BBC Future: The key to good exam results?
Elsewhere on the BBC
Football phrases
15 sayings from around the world
Full article Football phrases Why you can trust BBC News
BBC News Services
On your mobile
On your connected tv
Get news alerts
Contact BBC News
Source:
Google News Netherlands
|
Netizen 24 Netherlands