Dutch back up the bombast by beating England in World Cup quarter-final

Hockey Dutch back up the bombast by beating England in World Cup quarter-final • Netherlands 2-0 England
• Lidewij Welten and Laurien Leurink on target for Netherlands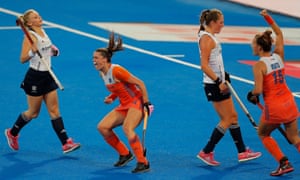 England can console themselves with one thing: it will take an extraordinary performance for anyone to deny the Netherlands an eighth World Cup win between now and Sunday night. There is no shame in losing this comprehensively to such a fine side and, make no mistake, goals in each half from Lidewij Welten and Laurien Leurink could easily have been only a fraction of the story. But a tinge of regret may follow England's exit from a home tournament that had promised so much and been supported so eagerly; England rarely hit anything like their best form over the past 12 days and that is what cost them the chance to extend their interest into Saturday's semi-finals.
"We didn't mess up today, we messed up in the group stage," said Maddie Hinch, England's outstanding goalkeeper. Hinch kept the scoreline respectable but her meaning was clear: had England kept their side of the bargain in a kind-looking Pool B, rather than finishing second, then the world's top-ranked sides would have had no chance of meeting until the final. Instead the Netherlands were granted an early opportunity to avenge penalty shoot-out defeats in the 2015 EuroHockey and 2016 Olympic finals, the latte r to Great Britain, and nothing other than cold retribution looked likely here.
The occasion had been infused with a dose of trash talk by the Dutch captain, Carlien Dirkse van den Heuvel, a club-mate of Hinch with Dutch side SCHC, beforehand. She had said England play "chicken without the head" hockey, also suggesting her team could win 5-0. "If we were headless chickens they would have won 12-0," Danny Kerry, the England coach said, and on the evidence of the first half it was hard to disagree. The Netherlands, who had scored 26 goals in their group games, flew at England and it took a brave block from Hinch to deny Kelly Jonker in the eighth minute. Caia van Massakker then cracked a ferocious shot against the bar from a penalty corner, Hinch saving the follow-up from Lauren Stam, and England had done little but cower around their own area.
The only question was when they would crack and they duly conceded in the 14th minute when Xan de Waard played a smart r everse pass for Welten to finish first time. For England it was already a case of trying to hang in there.
They achieved that in the second quarter despite several more alarms. Suzy Petty scrambled one loose ball away and Hinch denied Jonker again. At half-time Kerry's side left the field feeling buoyed to have avoided further punishment.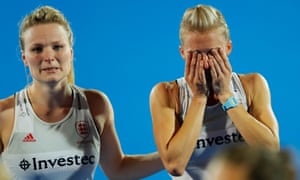 Any encouragement was extinguished within a minute of the restart. England simply could not afford to make mistakes and, when Giselle Ansley gave the ball away midway inside her own half, the writing was on the wall. A rapier-like attack ended with Leurink converting a straightforward finish after unselfish play from Frédérique Matla.
"In the games where we have beaten them, we have not given them those clear-cut chances," Hinch said. "We can't do that because they are killers. We can't plan on turning up every time [we play them] and defending our way to a win, we have to learn why they're so much better than us and what we can do to catch up with them."
It was an honest assessment. The Netherlands were several yards quicker throughout and thoroughly relentless. To use a football analogy, they recover the ball with the ferocity of Pep Guardiola's Manchester City; England were smothered and managed only one flicker of excitement towards the end when Alex Danson stretched for, and missed, a low ball across the area.
By then the game was long since up. England never qu ite had the belief to seek out their opponents' weak points and must now return to the drawing board. "Everyone's been chasing the Dutch since 2005," said Kerry, who confirmed he intends to stay on for the next World Cup and, first of all, another Olympic campaign with Great Britain. "We don't kid ourselves, we know there's a gap."
Hinch admitted it was galling to see the surprise package Ireland, whom England had defeated in the group stage after a dominant performance, play Spain in the last four after defeating India 3-1 on penalties.
That match had finished goalless after 60 minutes virtually bereft of major incident; it hammered home the opportunity England missed but, as their goalkeeper admitted, they had only themselves to blame.
The Netherlands will face Australia for a place in the final and the sense is that only complacency can deny them now. Dirkse van den Heuvel's bombast may not have been to everyone's taste; here, though, they more than backed it up.
Hockeyroos through to semis after tense World Cup shootout Read more
Topics
Share on Facebook
Share on Twitter
Share via Email
Share on LinkedIn
Share on Pinterest
Share on Google+
Share on WhatsApp
Share on Messenger
Source:
Google News Netherlands
|
Netizen 24 Netherlands