Australia exit hockey World Cup with penalty shootout loss to Netherlands

Hockey Australia exit hockey World Cup with penalty shootout loss to Netherlands
Netherlands won 3-1 on penalties
No 1 team to face surprise finalists Ireland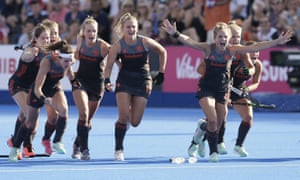 The Netherlands reached yet another women's World Cup field hockey final after beating Australia in a shootout on Saturday. The Dutch conceded a penalty corner goal with seven minutes left but prevailed in a shootout 3-1 to foil the Australians' bid for a first world title in 20 years.
I n their fifth successive final on Sunday, the Dutch will defend the title against first-time finalist Ireland, which extended its stunning run by upsetting Spain 3-2 in a shootout after 1-1 in regulation of their semifinal.
Ireland beat Spain in shootout to seal shock Hockey World Cup final spot Read more
It's a feeling the Netherlands know all too well. Of the 13 previous World Cups, the Netherlands have appeared in 11 and won a record seven. This Dutch side hasn't lost since the Olympic final two years ago. At this World Cup, they came into the semi finals having scored 28 goals and conceding only two.
"We were playing the best in the world, we knew it was a challenge and I thought we took it up to them," Australia coach Paul Gaudoin said.
"It wasn't always pretty. We've got plenty to work on but I think there's some belief that we can do some things in the next few years."
Kelly Jonker scored in the first half after she was picked out by Lidewij Welten, who made a fine run down the right side. But the Netherlands' dominance was spoiled by Georgina Morgan clipping a penalty corner shot low into the left side for the tying goal.
The match went to a shootout, where both sides scored from their first shots, but then the goalies saved two each.

Xan de Waard then got around Australia goalkeeper Rachael Lynch for 2-1. Dutch goalie Josine Koning then denied Karri McMahon, who shot wide. Given the chance to clinch the win, Welten scored between Lynch's legs.
"The Australia goalkeeper was very good but we should have finished it in the match, we created enough chances," Welten said.
Topics
Australia sport
Netherlands
news
Share on Facebook
Share on Twitter
Share via Email
Share on LinkedIn
Share on Pinterest < /li>
Share on Google+
Share on WhatsApp
Share on Messenger
Source:
Google News Netherlands
|
Netizen 24 Netherlands