The Netherlands 'understands' military action in Syria, as last resort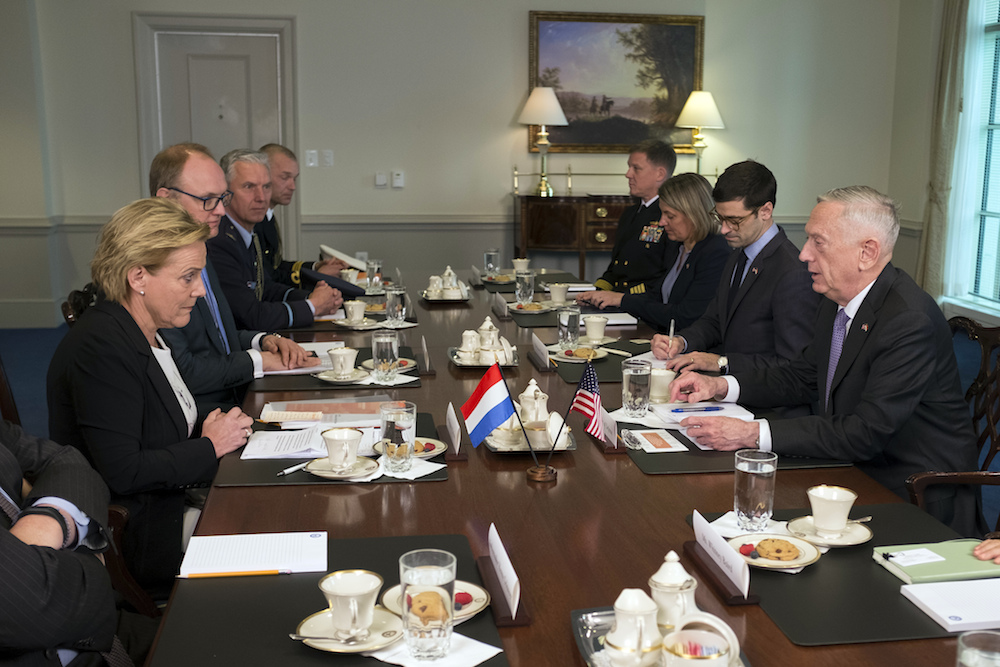 Defence minister Ank Bijveld and US secretary James Mattis in Washington. Photo: AP Photo/Cliff Owen
The Netherlands will understand if the US takes proportional military action in Syria if 'diplomatic, economic and political measures are insufficient', defence minister Ank Bijleveld has told current affairs show Nieuwsuur.
Bijleveld was speaking in Washington where she has been having talks with her Pentagon counterpart James Mattis.
Bijleveld told the programme that the US first wants to assess what the best reaction to the poison gas attack in Douma is. 'Everything is still open. That means that diplomatic, economic and political measures will be discussed first,' she said.
The minister also said she was sorry Russia had again used its veto to stall a n investigation into the use of chemical weapons in Douma.
'It is a complicated and complex situation which demands a political solution,' she said. 'The escalation between the US and Russia is worrying.'
Asked about the tough language used by US president Donald Trump on Wednesday, Bijleveld said: 'Those are not my words. My colleague Mattis has a different tone of voice.'
The US president's tweet was also condemned earlier by foreign minister Stef Blok, who described it as 'extremely inappropriate'.
The US has not asked yet asked the Netherlands to give military support to any campaign in Syria, broadcaster NOS said.
Source:
Google News Netherlands
|
Netizen 24 Netherlands